Thrive yoga and fitness hires only highly qualified, Yoga Alliance certified instructors so you can be sure you have the best experience possible.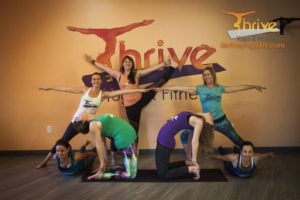 We Teach True Yoga
We recognize the seat of the teacher as sacred and we are here to guide our students back to themselves. We know posture practice is just the tip of the iceberg and we incorporate elements of all the limbs of yoga when we teach. We reflect our evolving "mastery" of the yoga ethics by leading the example for others to see and hear.
We Are Mindful
With our 'leave life at the door' policy, Thrive Yoga & Fitness is always our happy place where we are able to focus on our students, their experience, and creating a warm and inviting atmosphere conducive to the yoga/healing journey. We treat everyone at Thrive with respect and kindness because we know that positivity creates more positivity. While at the studio our actions and words are always in the best interest of the community and studio.
We Are Compassionate
Have an open heart, be open-minded, listen genuinely, and be sensitive to what others are feeling with a true intention to understand their needs and where they are coming from. We do this with each other and our students.
Committed to Practice
We are committed to our yoga journey and we know that if we are not doing yoga practice ourselves, we are not teaching from a place of true wisdom. We leave it on the mat so we can show up fully in our lives, for our students, and for each other.
Have Integrity
Earn the trust of others by communicating honestly, respectfully and with transparency. Give honest feedback and communicate efficiently. Have the ability to examine yourself objectively and use any constructive criticism to grow. If a situation arises – as they do – we communicate directly with the person involved kindly, respectfully, and clearly to avoid miscommunication. We are not into drama.
Cultivate Positivity
We believe in the healing power of love, compassion, and positivity. We believe that having a positive and motivating culture is of the utmost importance. We understand the power of a strong culture and the impact it has on every aspect of each other, students, and community.