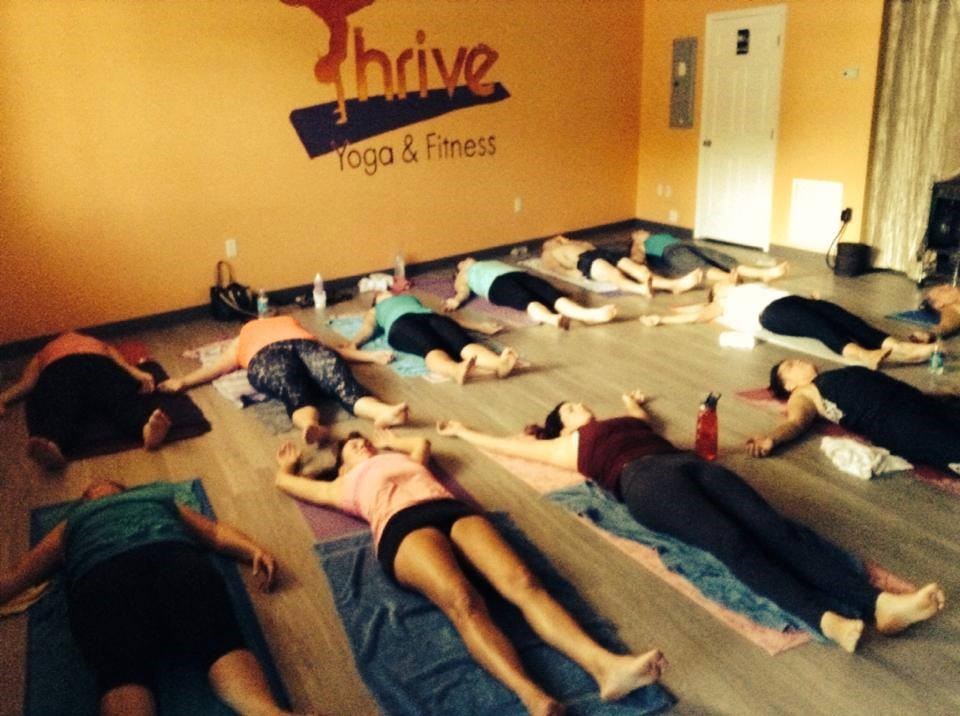 Yinergy is a fusion of energetic Vinyasa yoga and the slow, deep stretching of a Yin yoga practice. This unique class offered by Thrive Yoga & Fitness in Bradenton brings together the best parts of two very different yoga styles.
During the first 30 minutes of class, students warm up with a moderately-paced flow series. Practicing Vinyasa flow in a heated room helps loosen and prime the muscles, making them better able to release tension. The second half of the class is a time to slow down and allow the body to settle into a deep stretch.
My Thrive Yinergy Experience
My first experience with Yinergy at Thrive was Taylor Blair's 6:30 class on Tuesday night. She opened the class by asking if there were any areas of the body we wanted to focus on and whether there were any injuries that needed to be addressed. She invited us to close our eyes, focus on our breathing, and set an intention for the practice.
During the Vinyasa portion of the class, we moved through sun salutations, hip stretches, and core work. I worked up a serious sweat and was just starting to feel like I couldn't take the heat any longer when it was time to transition over to the second half. There was an incredible sense of relief when the heater switched off and the room began to cool.
I now fully understand the idea of priming yourself physically and mentally before a Yin practice. By the time we reached the second half of class, my mind and body had both been pushed outside my comfort zone and I was completely ready to surrender.
Taylor led us through a series of poses that stretched the entire body from the bottoms of our feet to the top of our heads. Each pose was held for about three minutes. She challenged us to find contentment in the poses and lean into the discomfort. By the time class had ended, I was completely relaxed and my joints and muscles felt loose and free.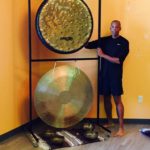 Taylor wrapped up by sharing information about some of the cool events coming up at Thrive. This Sunday, August 27th there will be a Gong Meditation at the studio at 4:00 p.m. Resident Gong Master Ed Russell will conduct a symphony of spiritual healing using 4 different gongs to completely embrace us with healing energy. I'm new to meditation and am really looking forward to this unique experience. There is a suggested $15 donation for this event. Register now by clicking HERE.