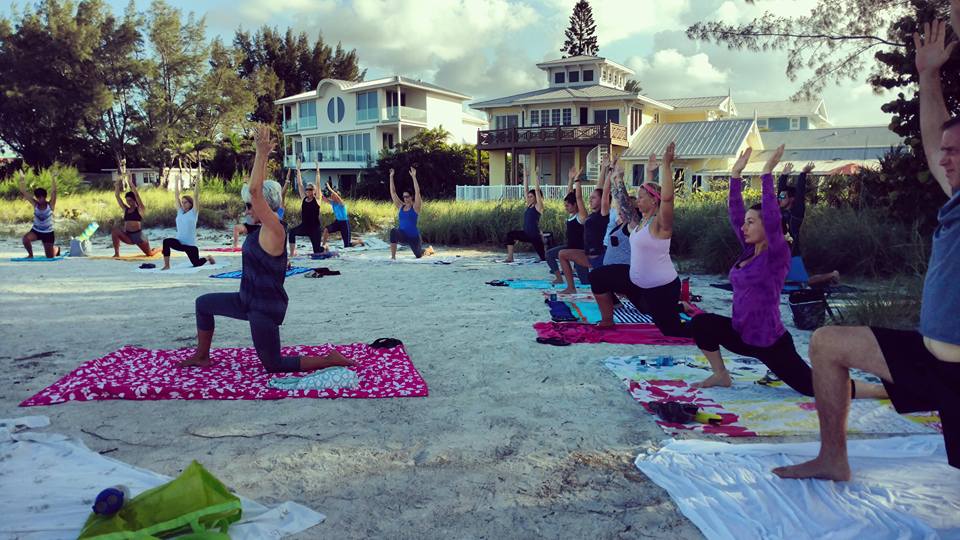 It's hard to find words to describe the magic that happens when conscious breath and movement combines with the absolute best that Mother Nature has to offer. Thrive Beach Yoga on Anna Maria Island offers an experience unlike any other.
Located on the north end of the island near the Sandbar Restaurant, the class is nestled in a cozy clearing surrounded by sea grass. It attracts a diverse crowd of both men and women of all ages and skill levels.
Thrive Beach Yoga: A Little Piece of Paradise
The beach yoga class I attended was led by Kayla, who also teaches Vinyasa yoga in the studio on Friday mornings. We worked on a hip-opening series, balancing, and sun salutations. It was an all-level class, with suggested modifications that allowed each participant to make the practice his or her own.
Starting class in the early morning helps to avoid the summer heat, and a steady Gulf breeze kept us cool and comfortable. The hypnotic sound of crashing waves made it easy to relax, let go, and turn my focus inward.
The soft sand beneath my body, smell of salt air, and gorgeous view created an experience that was both incredibly peaceful and exhilarating. Some of us were even lucky enough to catch a glimpse of dolphins frolicking in the water as we played with movement on the mat.
By the end of the practice, I was filled with an overwhelming sense of gratitude. I am thankful for living in a place where so many people dream of vacationing, for having the ability to practice yoga and connect with my body, and for being surrounded by 25 other souls who shared in this awesome experience.
Join in on the Fun
No previous experience is needed to enjoy beach yoga. Simply throw on some comfortable clothes and join in on the fun. A sheet or tapestry works better in the sand than a yoga mat, and you will want to bring a bottle of water.
Thrive Beach Yoga is a donation-based class offered every Saturday and Sunday at 8:30 a.m. Keep up on the latest news by following Thrive Beach Yoga on Facebook.