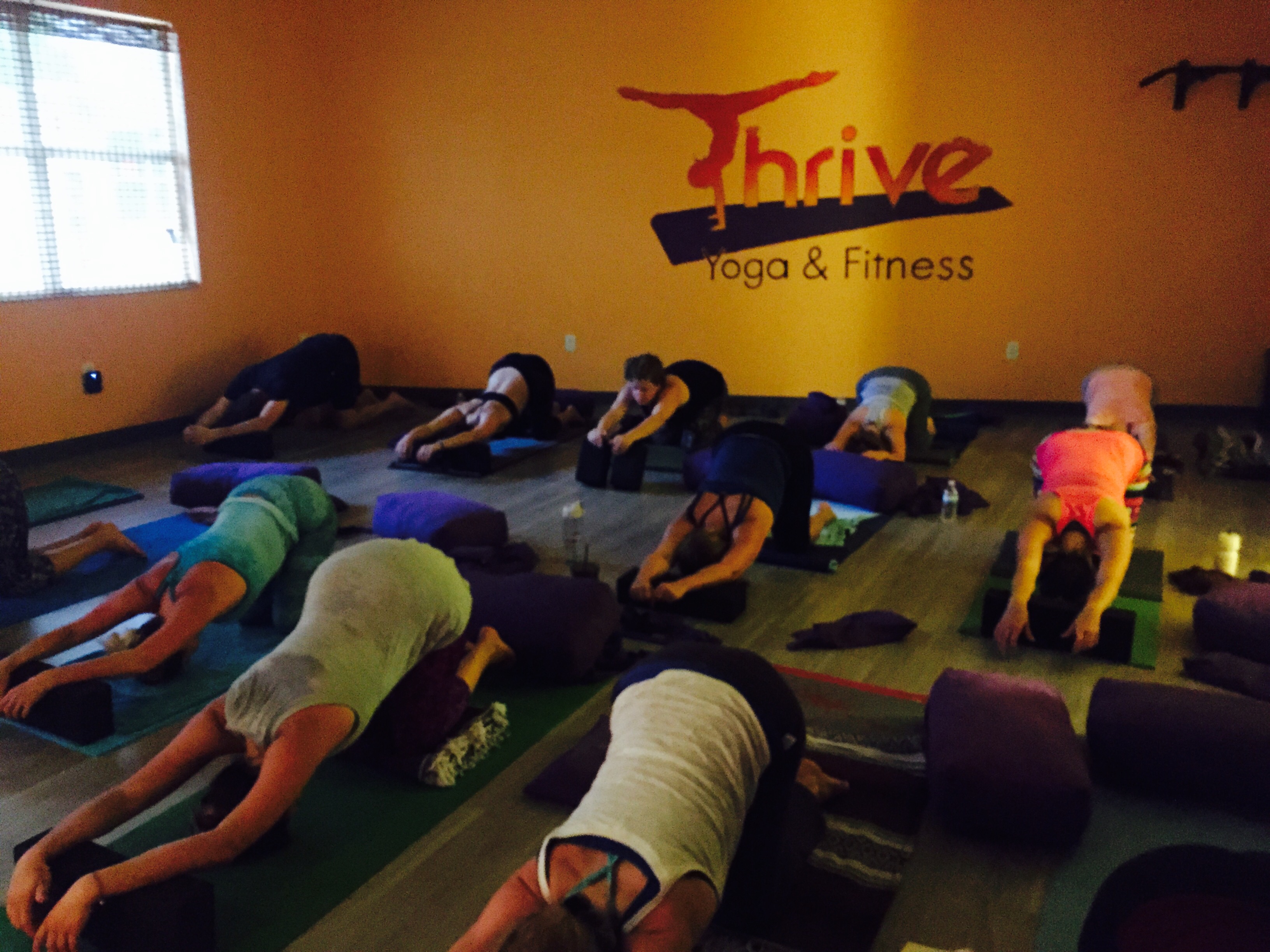 Sundays were made for relaxing, recharging, and preparing for the week ahead. What better way to start the day than an hour-long Yin yoga class?
This 10:00 a.m. class is fairly new to Thrive Yoga and Fitness and is led by 25-year yoga veteran and recent yoga teacher training (YTT) graduate Elizabeth Jensen. The studio space is open and welcoming, decorated simply with a few wall murals and a warm and relaxing color scheme.
Today's class size was perfect, with seven attendees split almost evenly between men and women. We prepared for class by choosing a blanket and a block from the prop-area and relaxing into a comfortable seated position.
Connecting with Our Breath
Elizabeth began the class by leading us through a breathing exercise called Humming Bee Breath. It's an ancient practice that is designed to calm the mind and reduce stress. We began by covering our eyes with our fingertips and gently plugging our ears with our thumbs. Together, we inhaled deeply, hummed as we exhaled slowly and completely, and repeated for several minutes.
The result is an interesting vibrating sensation and an almost "trippy" reverb inside your head. By the time we finished, my mind was calm and clear and I was ready to focus on the practice ahead.
Yin Yoga, Explained
Yin yoga is different from almost any other type of yoga. It's a simple and quiet practice but is much more challenging than it looks. In Yin yoga, you hold your pose, or asana, for three to five minutes at a time. This creates a deep stretch that targets the joints and connective tissues. If done consistently, the practice can increase circulation and improve flexibility.
The blankets and blocks are used as needed to ensure that you are able to hold the position comfortably for several minutes. I quickly learned that this is not the time to try to look cool or push too far out of your comfort zone. Simply finding stillness and holding onto it was far more challenging than I could have imagined.
Embracing Discomfort
Today's class was focused on a series of hip-opening poses. Elizabeth explained that many people hold stress and tension in their hips and that during the practice we may find ourselves feeling frustrated or uncomfortable. Consciously opening the hips creates depth, flexibility, peacefulness, and opens up space to accept positive energy.
During class, Elizabeth came around to offer gentle adjustments. She encouraged us to embrace discomfort while being conscious to avoid any actual pain. In Yin yoga, she said, the pose actually begins in the moment when you really want to get out of it. The essence of Yin yoga lies in finding the edge of your comfort level and gently settling in until you can push the slightest bit further.
During our well-deserved Savasana, Elizabeth came around and closed the class with a gentle face and neck massage and the application of some essential oils. In my opinion, this class was absolute perfection. If you haven't experienced a Yin yoga class for yourself, I highly recommend it.
Elizabeth will be leading a Body Positivity, Presence, and Empowerment workshop at Thrive on Saturday, July 19th. I'm incredibly excited to attend and explore this topic from a yogic perspective. You can learn more and register by clicking HERE.