Thrive yoga and fitness hires only highly qualified, Yoga Alliance certified instructors so you can be sure you have the best experience possible.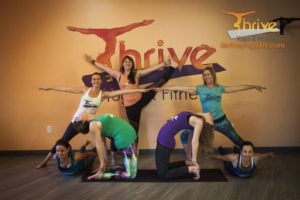 We Teach True Yoga
We recognize the seat of the teacher as sacred and we are here to guide our students back to themselves. We know posture practice is just the tip of the iceberg and we incorporate elements of all the limbs of yoga when we teach. We reflect our evolving "mastery" of the yoga ethics by leading the example for others to see and hear.
We Are Mindful
With our 'leave life at the door' policy, Thrive Yoga & Fitness is always our happy place where we are able to focus on our students, their experience, and creating a warm and inviting atmosphere conducive to the yoga/healing journey. We treat everyone at Thrive with respect and kindness because we know that positivity creates more positivity. While at the studio our actions and words are always in the best interest of the community and studio.
We Are Compassionate
Have an open heart, be open-minded, listen genuinely, and be sensitive to what others are feeling with a true intention to understand their needs and where they are coming from. We do this with each other and our students.
Committed to Practice
We are committed to our yoga journey and we know that if we are not doing yoga practice ourselves, we are not teaching from a place of true wisdom. We leave it on the mat so we can show up fully in our lives, for our students, and for each other.
Have Integrity
Earn the trust of others by communicating honestly, respectfully and with transparency. Give honest feedback and communicate efficiently. Have the ability to examine yourself objectively and use any constructive criticism to grow. If a situation arises – as they do – we communicate directly with the person involved kindly, respectfully, and clearly to avoid miscommunication. We are not into drama.
Cultivate Positivity
We believe in the healing power of love, compassion, and positivity. We believe that having a positive and motivating culture is of the utmost importance. We understand the power of a strong culture and the impact it has on every aspect of each other, students, and community.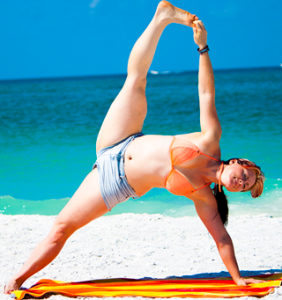 ERIN GERAGHTY
Erin Geraghty is a multifaceted Yoga Therapist and Recovery Coach. She has been practicing yoga for over 10 years and developed the body work system, Tension Pattern Release TPR which releases musculo-skeletal pain patterns quickly and effectively. She is also a Recovery Coach, and Podcaster (Check out her podcast, Thriving After Addiction free on itunes).
She is nationally certified in Personal Training and a 500-RYT Yoga instructor and yoga therapist. She is a black belt in martial arts from a mix of Shotokan, Jujitsu, and Judo and has taught women's self defense and cardio combat in Japan and the United States.
Her teaching style is spiritual and very adaptable as she has experience with many different age and fitness levels and she makes a point to not just show moves, but to truly teach her students to savor each individual movement. Erin is very passionate about yoga and deeply values the ability of the breath to link the mind, body, and spirit.
If you would like to make an appointment for any of Erin's private services, you can contact her directly at Erin@ErinCoach.com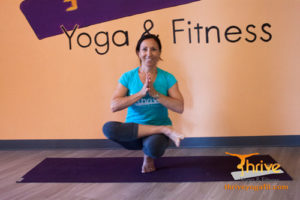 ANGELA SIMONE
Angela started to practice yoga in 2003. Her interest grew from her very first class and first teacher, who inspired her to continue her yoga journey.
Angela completed a 200-hour teacher training program in 2006/07 with Lynn Burgess at Yoga From The Heart, and a 200-hour certification with Betsey Downing and Jaye Martin at Garden Of The Heart Yoga Center in 2011.
Today she continues to take workshops to expand her knowledge, inspiration and joy for this wonderful practice. She teaches a Hatha class offering cues and details in alignment making class challenging to the practiced yogi and accessible to the new student.
This self-healing practice provides health benefits on many levels and a path to inner peace and joy!
"I am so blessed and grateful for the wonderful Teachers and Students in my life that keep me inspired and enthusiastic to grow as a teacher and share this practice!"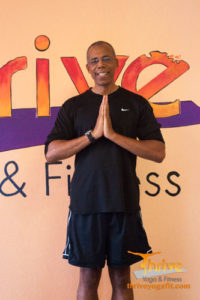 EDWARD RUSSELL
Ed has been a Reiki practitioner for over 14 years, and has studied several other energy healing systems as well. He spent time in Bihar India where he met his Guru, and studied meditation.
Recently, Ed discovered the Gong and its powerful therapeutic possibilities. Ed has studied with Faye Henry, a gong master who has taught him the secrets of playing the gong. Play from your heart and play with intention. Ed's intention is to combine Reiki energy with the Gong therapeutic vibration to create a opportunity of transformation for the highest good of all.
KAT FETZER
Kat Fetzer, an RYT 200, is eager to share her love of Yoga with her students. When teaching she hopes for her students to find balance mentally, physically, and spiritually providing them with a practice that they can embody in their daily lives both on and off the mat. She integrates different styles of yoga, as she was trained in both ashtanga and anusara inspired practices by her mentors. Her style, positivity and guided meditations are as unique and powerful as she is.
KAYLA McKENNA
Kayla McKenna is a Florida native and graduated from USF with a Bachelors of Science in Health Sciences. She fell in love with yoga because of its focus on connecting the mind and the body. She graduated from Thrive Yoga & Fitness RYT-200 program.
Her classes are a mix of vinyasa and yin and will always incorporate a little bit of the philosophy of yoga. She is always learning and loves to share her passion of yoga with her students.
ELIZABETH JENSEN
"I have always been an inquisitive person. I was always seeking answers to questions about life and the vastness of the universe. I learned about yoga when I was 14 during my search to learn more about Mahatma Ghandi. Though I didn't practice yoga at the time, it was always in the back of my mind."
Yoga became a part of my life when I was 21. Since then, my yoga practice has changed a lot. As the years have passed, I have learned to practice yoga on my own and strike a balance between flow and my current preferred Yin yoga.
I graduated as an RYT-200 from Thrive Yoga & Fitness and I am a 200 hour registered yoga teacher through Yoga Alliance as well as an Ayurvedic Health Counselor. I'm currently progressing towards becoming a Clinical Practioner. Both yoga and it's sister science, Ayurveda, are big parts of my life.
I love the philosophy and strive to bring the sweet teachings into my life as best I can.