Welcome to Thrive Yoga Fit
Your personalized yoga practice, your way. Discover the flexibility, convenience, and empowering features of Daily interactive Live classes and stream Yoga Classes anytime, designed to fit your busy schedule.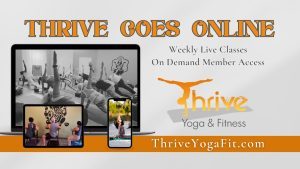 What is On-Demand Yoga?
On-Demand Yoga allows you to access our rich library of authentic, insightful and meticulously designed yoga classes at any time, from anywhere. Whether you're a seasoned yogi or just starting your journey, this platform provides the flexibility to practice on your terms.
Drop-in to any class Online at your leisure or enjoy unlimited access to our full On-Demand Library as one of the many perks of being a Thrive Unlimited Yoga Member.
What is Included with On-Demand Classes:
Access: Enjoy 24/7 access to a diverse range of yoga classes, including Vinyasa, Ashtanga, Yin, Restorative and more.
Interactive Weekly Live Classes: Join us for live sessions, where you can practice alongside experienced instructors and engage in real-time with the Thrive community.
Variety: Access a wide range of classes, from energizing flows to restorative practices .
Community: Connect with a like-minded community and share your journey with fellow yogis.
Wellness: Improve your physical, mental and emotional well-being, reduce stress, and boost your overall health.
Key Features:
Customize Your Practice: Tailor your yoga routine to your skill level and preferences. Choose from various class styles, and instructors in real time or at your leisure..
Progress at Your Pace: Follow your personal yoga journey, observe your progress, and repeat classes as needed to meet your goals.
Practice Anywhere: Access On-Demand Yoga from your living room, studio, or the serene outdoors – it's yoga on your terms.
Member-Only Access: Unlock our exclusive video library by becoming a studio member and enjoy premium content that's only accessible to you.
Thrive Unlimited Yoga Member Perks:
Unlimited In-Studio or Online Classes in Real Time
Unlimited Access to Recorded Classes in On-Demand Library
50% Off Select Series
25% Off Workshops
10% Off Retreats
10% Off Gift Certificates
10% Off Thrive Merchandise
1 Free Buddy Pass Monthly