Thrive Coach School Presents…
Thrive Coach Certification
with Master Coach Erin Colleen Geraghty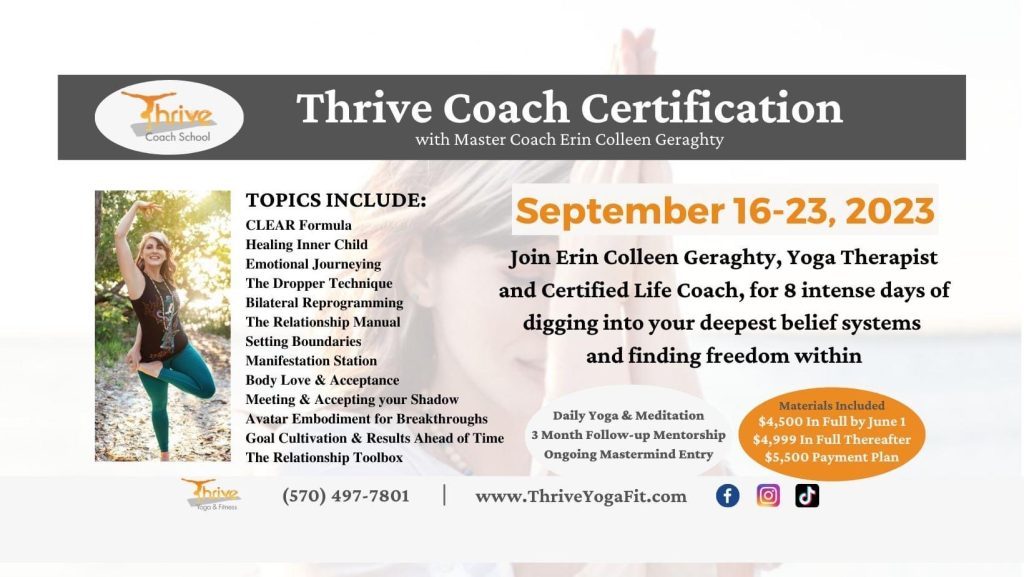 September 16-23, 2023
Join Erin Colleen Geraghty, Yoga Therapist and Certified Life Coach for 8 intense days of digging into your deepest belief systems and finding freedom within.
Topics covered have been developed and perfected by Master Coach Erin Geraghty for almost over a decade. Learn how to transform your life and coach others how to do the same.
CLEAR Formula
Healing Inner Child
Emotional Journeying
The Dropper Technique
Breath Work for Coaching
The Relationship Manual
Avatar Embodiment for Breakthroughs
Meeting and Accepting your Shadow
Setting Boundaries
Manifestation Station
Body Love and Acceptance
Goal Cultivating and Results ahead of time
Unconditional Love and Compassion
Program Includes:
Yoga and Meditation Everyday
Breath work and Sound Therapy
3 month follow up and mentorship
3 month Mastermind Entry
Bonus Sessions
There will be an additional TWO DAYS of "Relationship Toolkit" which is now included in your course!
Attachment Style
Nonviolent Communication
Drama Triangle / Empowerment Dynamic
Love Languages
Check out these testimonials in the playlist below to hear directly from previous students just how transformative the program was for them!
---
Pricing Details:
$4,500 early bird by June 1st
$4,999 thereafter
All books and course materials included
More Details Regarding Deposit, Early Bird Pricing, etc.:
$500 deposit and the rest is due by June 1st for early bird.
Or full pricing thereafter
$5,500 payment plan
Are you already committed, and ready to start your life coach journey?