We have two new workshops never before offered at Thrive. Self-Defense and Kid's Yoga Workshop.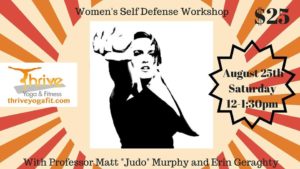 *UPDATE: Registration for this self-defense workshop now includes five free yoga classes per couple or two free yoga classes for single-registration!*
—
Did you know that Erin is a black belt in Karate? If you didn't know that, you may not know she also taught Women's Self-Defense in Japan and the US. Now she's offering a low cost workshop at Thrive!
**** Sign up with a friend or family member and pay $40 for two****
With combined experience of over 30 years in marital arts, Matt and Erin will guide participants through practical application of martial arts techniques from a combination of Judo, Jiu Jitsu, and Karate. This Women's Self-Defense workshop is suitable for girls and women over the age of 14.
In addition to this workshop, Kat Fetzer is offering a Kid's yoga monthly class for parents and children. This class is fun and playful and allows children to gain a love and understanding of yoga at a young age while learning great focus skills, getting exercise, and bonding with family. Kat has a wonderful charisma and is a leader in the community. Her patience and intuition really make her a stand out teacher at Thrive.
This Kid's Yoga Workshop is August 18th 11:30am-1pm  and is only $15 for a parent or guardian and one child.