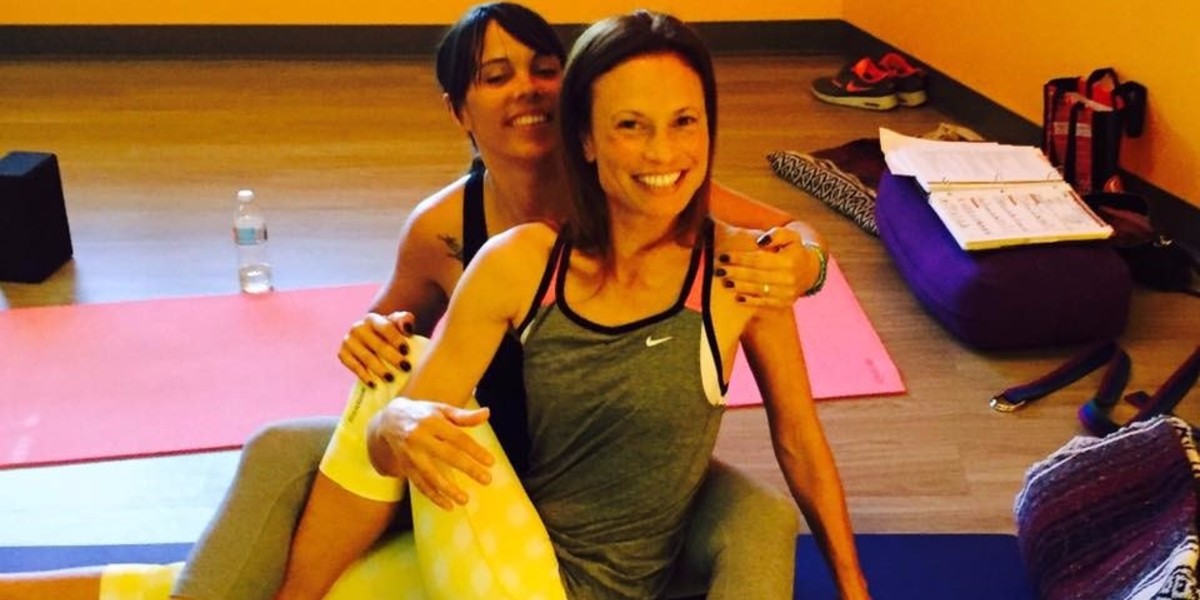 As I arrived at the Thrive studio on Saturday morning for Renee Vecek's Warm Vinyasa Flow class, the first thing I noticed was the feeling of camaraderie among the students. As we milled around waiting for class to start they chatted about their week, family events, and recent vacations. One student even brought fresh-picked fruit to share with some fellow classmates. It's clear this class has a strong and consistent following. 
Going with the Flow
Unlike many of the other classes I've attended at Thrive, there was very little in the way of introduction this morning. We jumped right into flow sequences and continued for the entire hour with very few breaks.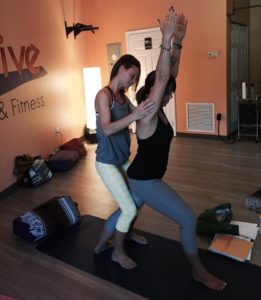 Renee seemed to know most of the students by name and gave shout-outs throughout the class for a job well-done. With a strong focus on core work, strength moves, and a fast-paced flow, I would categorize this as an intermediate to advanced-level class.
Heating Things Up
Practicing yoga in a heated room is said to increase muscle flexibility and replicate the hot and humid conditions in India where yoga originated. While temperatures in a traditional Bikram hot yoga class reach about 105 degrees, warm classes are set slightly lower. By the time we finished today's class, the room had reached a balmy 94 degrees.
Warm Yoga Tips
Preparing properly for a heated yoga class is the key to having the best possible experience. Here are a few tips to get you started.
Don't Forget Your Towels!
Due to the hot and humid conditions, profuse sweating is to be expected. Covering your yoga mat with a grip-backed towel will help with slipping. You will also want to bring at least one or two hand towels to mop sweat from your face and body as you practice.
Stay Hydrated
It's important to stay hydrated before, during, and after class. I suggest bringing a 32-ounce or larger bottle of ice water so you don't have to worry about running out during class. Make sure to drink plenty of fluids after class is done and avoid consuming caffeine and alcohol.
Take it Easy
Until you get used to the heat, you may find that you feel dizzy or light-headed. This is especially true during an intense class. Don't push yourself too hard. Take breaks if you don't feel well, or step outside the room to cool down if necessary. You may feel drained after class, so plan to take it easy for at least a few hours if possible.
Although this class was a bit of a struggle for me, I have to admit that I felt awesome after it was done. My body responded positively and I slept better at night than I have in a long time. If you're looking to kick your yoga practice up a notch, check out Renee's Saturday morning Vinyasa flow – you'll be glad you did.
Upcoming Workshop
I'm super excited about Thrive's upcoming Low Back, Hips, and Self-Care workshop on Saturday the 26th at 1:30 p.m. Studio owner Erin Geraghty will share her secrets for realigning the low back and hips to ease chronic pain. The workshop is almost sold out, so if you're interested, register today.