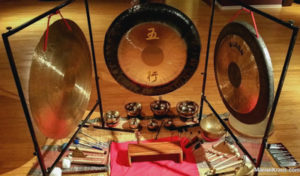 Rejuvenation and transformation are the best words to describe this workshop. I (Erin) personally got to try this meditation along with the support of my tribe. I saw as each attendee of the retreat put their feet inside of the bowl and the sense of peace that washed over them. I watched as the layers of tension dissolved and a glow appeared on the surface of their skin. When they finished they appeared to float over into the yard as Edward said, "Be sure to ground yourself!" To see that kind of transformation before my eyes was amazing and of course I told Edward, "We have to have this at Thrive!"
We start with a special heart opening gong meditation. The heart chakra helps to connect the above to the below so we can use our body as a vessel to process undigested emotions, traumas, and uncomfortable feelings. People after the experience use words like, "Freedom," and "Clarity" to describe their experiences with the gong.
In this 90 minute workshop, we will wring out any negative energy and help to create space for the energy you do want in your life like joy, love, and compassion. Join Edward Russell Reiki Master/Gong Practitioner on December 3rd at 1pm for this VERY limited spaced workshop. We are only accepting EIGHT people for this workshop so everyone can get the attention they need to cleanse and heal.
If you have never explored the  the benefits of sound therapy with meditation, you will want to join in on this workshop to address and release blocks in the energetic, physical, and emotional systems of the body.  Please be sure to register ahead of time to save your spot.
We hope you will join us at this special workshop and we are honored to have you share this space with us. CLICK HERE to Register