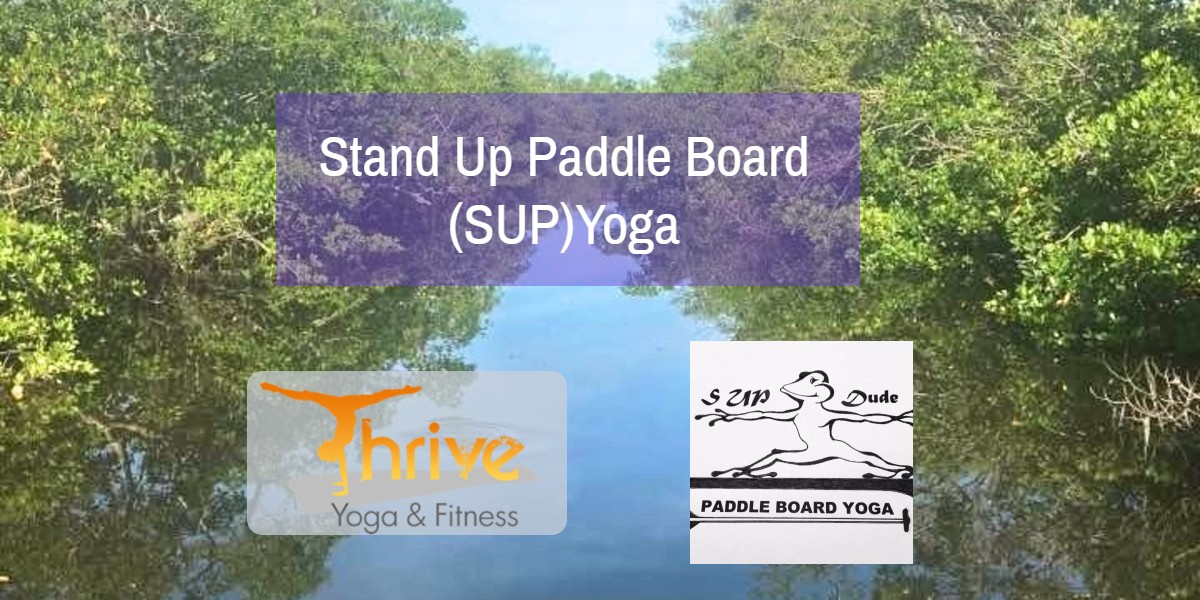 Stand-up paddleboard (SUP) yoga is a unique practice that takes place on an eight-foot fiberglass board out on the open water. Thrive Yoga & Fitness and SUP Dude have joined forces to offer weekly classes on Palma Sola Bay in Bradenton.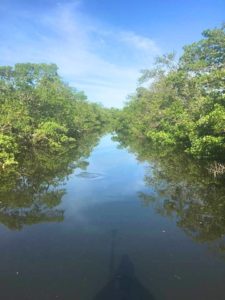 I had seen the gorgeous photos and heard other students talking about how much fun it was. I wanted to be part of the experience, but my nerves got the best of me. I put it off for weeks until Thrive studio owner Erin Geraghty and instructor T.O. Martinez convinced me to tackle my fear and give it a try.
A Beginner Friendly Experience
I arrived at the Palma Sola Causeway with a friend who was super excited to join in on the fun. We were both absolute beginners, having never been on a paddleboard before. T.O. was extremely patient and reassuring as he set up our boards and gave us some simple instructions. He pointed to a secluded cove across the bay and let us know that was our destination. Once we arrived, we would go through a yoga flow on top of our boards and then paddle back.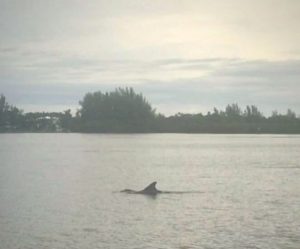 My stomach did a little flip as I started to question what exactly I had gotten myself into. I had zero confidence that I would be able to maintain my balance and the cove seemed an insurmountable distance away. As if they had felt my anxiety and arrived to offer reassurance, a family of dolphins appeared, jumping and frolicking just a few feet away from us. It was then that I knew I had made the right decision. This was going to be an epic experience.
Finding Balance
As we learned to balance and paddle, my quads were trembling, my shins were burning, and my heart was pounding with fear. T.O. stayed close by, reminding us to get out of our heads and focus on our breathing. Once I took his advice, I was surprised to find that it wasn't nearly as difficult as I had expected.
When I began to feel more comfortable, I was able to look around and really enjoy the beautiful scenery. I started to calm down and felt almost as if I was walking on water. T.O. kept us motivated with a fun and upbeat playlist coming from his waterproof speaker.
As we approached the cove, the music switched to a more tranquil melody. The water was calm as glass, the temperature was perfect, and I felt a deep connection with nature that was almost surreal.
Yoga Flow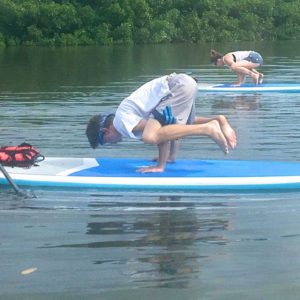 As the class began, we were invited set an intention. This could be a word, a mantra, or simply a dedication to someone important to us. I decided on the word "bravery." It was something that I repeated to myself throughout the practice, helping to keep me calm and centered.
A key fundamental of yoga is grounding yourself and maintaining the balance between the four corners of your body. This is never more important than when you practice on top of a floating board. You must keep your core engaged and think through each movement before executing it. You must clear your mind of distractions and stay absolutely present in the moment. Paddleboard yoga requires you to listen to instruction, make deliberate moves, and own it. Making unnecessary adjustments or second-guessing yourself is a great way to end up in the water.
T.O. led us through a series of sun salutations, adding more poses to each round. At first, I was barely able to transition from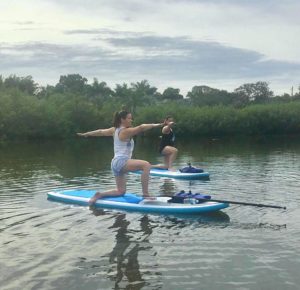 sitting to standing. Forward folds were terrifying and every move seemed impossibly daunting. I surprised myself, though, and by the end of the day, I was flowing through sun salutations with the rest of the class. Savasana was greatly deserved and absolutely blissful as we relaxed in the sun listening to the birds chirping and fish jumping around us.
Paddling back across the bay, I reflected on the experience. I felt an overwhelming sense of pride and accomplishment and realized that this is exactly the kind of challenge that has been missing from my life. I'm definitely going to be incorporating SUP yoga into my regular practice.
Join the Fun!
Stand-up paddleboard yoga is offered every Sunday at 9 a.m. Participants must register online 24 hours in advance. The cost is $25 and includes rental of the paddle board, paddle, and life vest. You should plan to wear comfortable clothing and bring a bottle of water and sunscreen. Don't miss out on this amazing experience, join in on the fun today!
+++++++++++++++++++++++++++++++++++++++++++++++++++++++++++++++++++++++++++++++++++++++++++++++++
Thrive Yoga & Fitness is super excited to be hosting Johan Hedstrom's workshop at the studio this Saturday. He's visiting all the way from Sweden and brings over 20 years of yoga and meditation experience!  Join us for a workshop by donation this Saturday at 1:30 PM. Register Today!