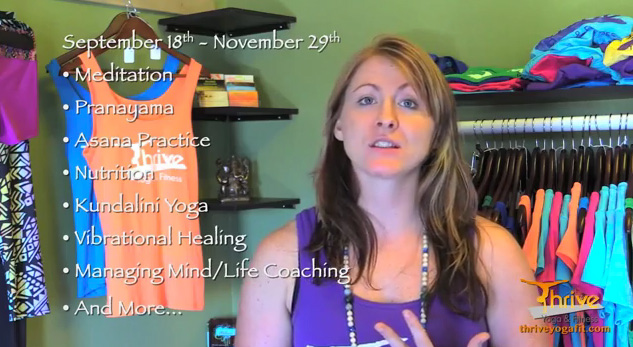 What is holding you back from transforming your life?
One of the most beautiful things about owning a yoga studio is cultivating a community of people who want to grow.
It's so common we get stuck in our patterns and accept that as life and what we know. I find that my students start digging deeper though. I see it in the way they act, talk, and of course, I see if reflected in their practice. Many of my students are digging even deeper though and that is why I am excited to announce our Yoga Alliance Certified 200-RYT Program starting September 18.
This yoga teacher training will help you grow and deepen your practice and prepare you to teach others how to follow the path. The Thrive Yoga & Fitness Yoga Teacher Training is Ashtanga focused, but students will be introduced to all elements of yoga and different kinds (as I've been taught, all yoga is good yoga, but you will find a method that resonates with you).
The course will include anatomy training with Dr. Howard Seider, Kundalini Meditation and practice with Sacred Vibrations Owner Mfon Ipeinkyang, Posture Assisting, Experiential Anatomy, and Chanting with Erin Geraghty, Anusara inspired cueing and posture studies with Angela Simone, Energetic work and understanding with Karine Woodley, Meditation with Sarah Boler, and Energetic Systems studies with Amanda Curl (aspiring Acupuncture Physician). Students can expect to be well-versed in the 8 Limbs of Yoga, the Yamas and Niyamas, and the Yoga Sutras. There will also be a special module on Life Coaching, Nutrition, Journaling, Marketing, and more!
For more information you can call Erin at 570-497-7801. We will be hosting a few open houses/Q&A sessions to answer any questions.