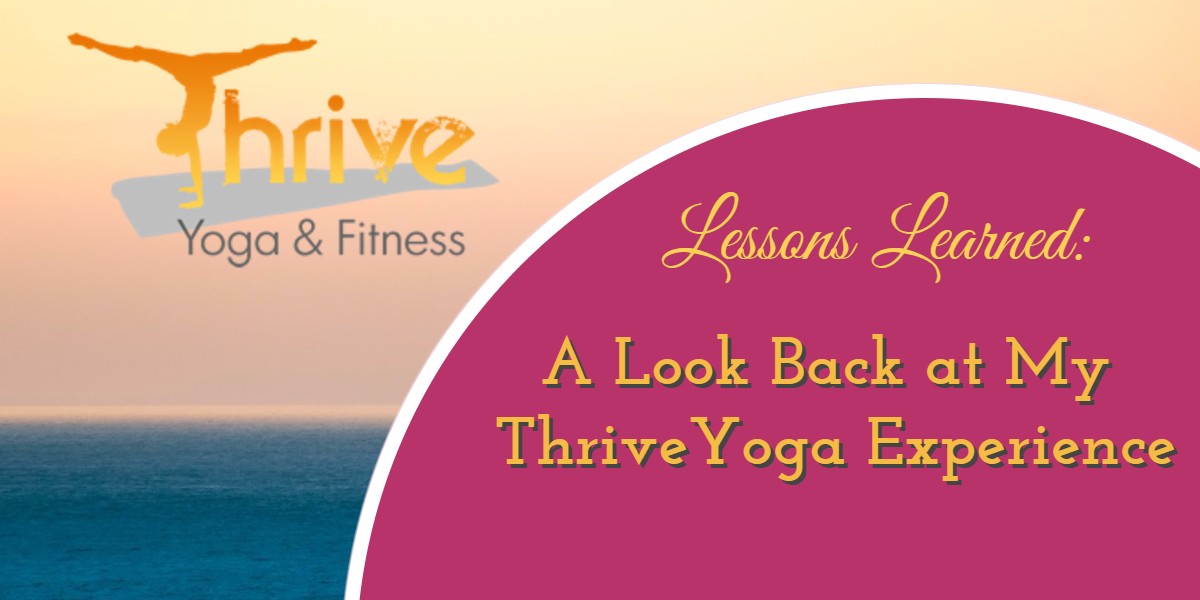 A little over a month ago, I was challenged to rediscover my yoga practice by completely immersing myself in the Thrive Yoga & Fitness experience. When the experiment began, I had some preconceived notions about where it would end up. I assumed that 30 days of yoga would help me regain some flexibility and hoped I would learn techniques to better handle my stress.
While these things did happen, I was completely unprepared for the deeper ways this experiment would impact my life.
Since I started regularly attending classes at Thrive, I've made new friends, connected with inspirational mentors, and found my second home. Throughout this process, I learned countless life lessons. Here's a look back at a few of my favorites.
Learn to Bend, So You Don't Break
A consistent yoga practice brings so much more than a flexible body. It calms the mind, improves concentration, reduces anxiety, and increases self-awareness. Erin's Yinergy classes taught me that it's okay to be vulnerable and simply let go. The warm and welcoming studio environment provided a safe place to do so. Because I was willing to let myself be weak, I now feel stronger than ever.
Savor the Joy of Stillness
Each of Thrive's heated yoga classes pushed me well beyond my comfort zone. It was only after reaching a state of physical and mental exhaustion that I learned the joy of complete surrender. These classes taught me that in yoga, as in life, there are few things more pleasurable than a well-deserved moment of stillness and tranquility.
Celebrate the Small Things
During his Hatha yoga classes, T.O. taught me the importance of noticing and appreciating life's smallest victories. Instead of always working so hard to push myself to the next level, I now take the time to step back recognize how far I've come. I've learned that life is much more fun when you are constantly finding reasons to celebrate.
To Conquer Your Fears, Get Out of Your Head
My first paddleboard yoga experience required me to dig deep and find my bravery. I learned that clearing your mind and focusing on breathing can help you get through almost any challenge. For weeks, I was terrified of falling off the board. When it actually happened, I simply got up and kept on going. This was the moment I realized that most of our fears are all in our heads.
Embrace Your Discomfort
Elizabeth's Sunday Morning Yin classes helped me learn to embrace discomfort, push the edge, and find contentment in stillness. By clearing my mind of "I can't" and inching closer to my goal with every exhale, I was able to achieve things I thought were well beyond my physical abilities. I now try to use the approach when tackling life's everyday challenges.
Look for the Silver Lining
As we watched the devastation that Hurricane Harvey brought to Texas, many of us came to class with heavy hearts. Thrive instructors brought some comfort by reflecting on the stories unity and the outpouring of care that had begun to surface. As Erin so eloquently stated:
"Sometimes a gift is wrapped in dark paper."
Little did we know at the time; Hurricane Irma would be soon turning her eye on us. As soon as the imminent danger had passed, the Thrive community rallied forces to collect supplies for some of the hardest-hit areas.
The studio served as a source of stability and comfort in a time when many of us were feeling exhausted and stressed out.  When we finally returned to our practices, Elizabeth was there with compassion, support, and an anxiety-busting class to help us get back on track.
What's Next?
Although this project has come to an end, my journey is just beginning. I'm so thankful to be a part of the Thrive Yoga & Fitness community and can't wait to see where the next 12 months will take me. If you aren't a part of this amazing studio, you're missing out. Stop by today to experience it for yourself. If you happen to see me while you are there, please come over and say hi.
+++++++++++++++++++++++++++++++++++++++++++++++++++++++++++++++++++++++++++++++++++++
Are you ready for one of the most unique yoga experiences ever? Join Elizabeth Jensen on Thursday, October 5th for "Moon Salutations to Rock and Roll." Let loose and rekindle the joy in your yoga practice with this fun and liberating class. Spaces are limited, so reserve your spot today.